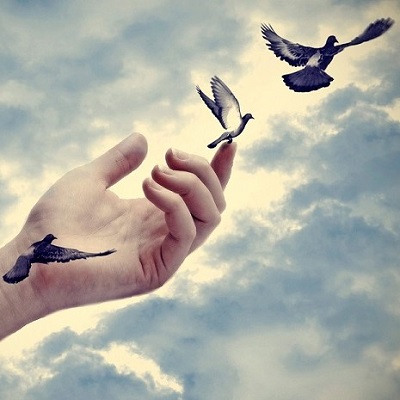 Letting go of anything can be painful. You may need to let go of a person or an idea that you've held on to for years, but now know that they are negative forces in your life and you must let go or suffer consequences.
Before you take action to rid yourself of yesterday's baggage, you must be willing to accept the changes that your new beginning will bring. You need to open up to the possibilities that lie ahead and not hang on to the bad memories and actions of the past.
You may be letting go of some bad habits in your life such as unhealthy eating, smoking or saying goodbye to a job that no longer holds a bright future for you. Intellectually, you may know that you have to let go in order to experience progress, but actually taking action is difficult.
When you're finding it hard to let go of negative areas of your life and make way for new beginnings, here are a few tips that might help:
Accept the past. Whatever you've done or been in the past is history. Only until you accept that past can you let go of it and set yourself free to move on to a better future.
Take action by meditating. Meditation may not seem like action, but when you meditate, your brain is working overtime to bring clarity and focus to your life.
Set your goals for the future. Nothing helps get rid of the past like looking toward the future. Align your goals with the life's purpose you see for yourself.
Don't think of yourself as a victim of the past. Terrible things may have happened in your past, but when you continue to see yourself as a victim, you're hanging on to yesterday rather than letting tomorrow guide you down a path of new and better beginnings.
View past mistakes as opportunities. The horrific mistakes you've made in the past can be a springboard for making you a better person.
Visualize yourself as the person you want to be. No matter how you want to change from what you were in the past, you have got to let go of that old image to begin creating the one you desire.
Believe in yourself and that you can let go of all of yesterday's regrets and mistakes and make the future brighter. You are only given this one life (for now, anyway :)), so treat each day as if it was a gift. Unwrap it carefully and with excitement.